No meal is complete without a meat dish of questionable origin. Victory Meat is a Wellington Wells delicacy, and these Victory Meat Pies will be sure to satisfy your hunger. Just don't think about it too hard!
INGREDIENTS (Makes One Pie)
2.2 lbs. minced victory meat (beef), whatever leanness you want

1 can Guinness, or get pint from local pub

7 oz. cheddar, slightly aged (so that it's tasty but not overwhelming)

1 medium-sized onion, diced

2 cloves garlic, diced

1 cup beef stock

1 tsp. flour (or 1 tbsp. depending on your desired gravy thickness)

1 package of puff pastry, thawed

1 homemade or premade pie base

Salt and pepper
Note: This is a savoury pastry base, NOT a sweet base.
DIRECTIONS
1. Add enough oil to cover the bottom of your favourite pan. Turn to medium heat, and add diced onions. Add diced garlic 2 minutes later. Cook slowly, turning frequently to avoid burning, until onions are translucent.
2. Add the beef (or whatever meat you can reliably obtain with no questions asked) to the pan, and cook until brown, stirring frequently to ensure even browning.
TIP: Break up the mince with a wooden spoon during this time, to both increase the surface area for cooking and have smaller "chunks" (if you want big chunks of meat, swap mince for steak cut into small pieces).
3. Once browned, add the can of Guinness and simmer with a closed lid for 20 minutes. After the 20 minutes is up, take the lid off to reduce the excess moisture.
4. Once the Guinness is reduced, add the stock, salt and pepper (to taste) and reduce about half way. Mix in small amounts of flour until desired gravy consistency is met (you don't want a thin gravy – the point of this sauce is to create a cuddly blanket of deliciousness for your mince). Once done with this step, set aside to cool for 10 minutes.
TIP: Don't go too thick – you're not baking a cake. The right consistency should be quite viscous, such that it very slowly seeps out of the pie when you make a cut, but almost as if it's reluctant to do so. Which of course it is, because it's departing from paradise.
5. In the meantime, look at the instructions for cooking your crust and pastry. Typically you'll want to pre-bake the base a little bit, after puncturing (delicately use pointy stick) the base and sides, then take it out. Once that's done, fill with meat sauce.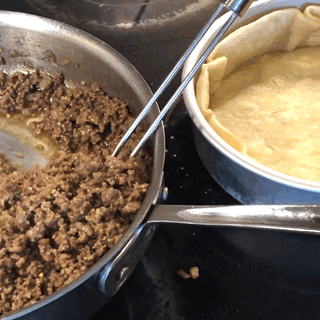 6. Make sure not to overfill, as the next step is to add the cheese on top of the sauce, grated.  7 oz. might be more than you need.
TIP:  Keep in mind that the cheese should be a component and not a dominant force like an American pizza. Bad. Balance is important. Should be able to see the sauce through the (unmelted) grated cheese, and once melted, the cheese should not flow over the edge of the pie.
7. Once done, follow the puff pastry instructions to create the top. Typically you should be able to just take it out and cut it to size. You might need to roll it with flour, which is more magic than a science.
TIP: I use the remnants to create little dough balls on top, to remind me of New Zealand bakery pies.
8. Cook for 30 minutes at 400°F, or follow the puff pastry package instructions. Remember that the point here is to cook the pastry – the cheese will melt regardless, and the sauce is already cooked.
9. Serve and create envy among all your friends.