Wellington Wells is home to many charming customs, and the Ceremony of the Holy Yam is one such example. Your guests will also irrationally worship this starchy vegetable when you mix it with cheese and serve it in its own skin!
INGREDIENTS (Makes Six Yams)
3 medium sweet potatoes

4 oz. fontina or similar cheese

5½ tbsp. unsalted butter, room temperature.

½ C. minced shallots

1 tsp. cayenne pepper

1 large egg

Pinch of salt

Pinch of black pepper
Note: We used sweet potatoes instead of actual yams, but it's up to you which type of oblong root vegetable you prefer.

DIRECTIONS
1.. Preheat the oven to 400°F, and line a baking sheet with aluminum foil.
2. Place the potatoes on the baking sheet and delicately stab each one a couple times with a fork or knife to allow steam to escape.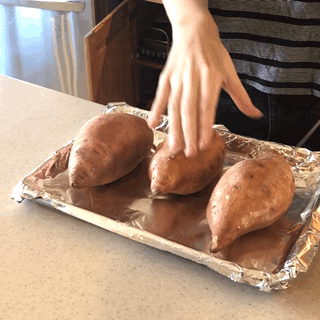 3. Bake the potatoes at 400°F for roughly an hour, or until tender. Take them out of the oven and set them aside to cool.
4. While the potatoes are baking, bring a small pan to medium heat and melt 1 ½ tablespoons of butter. Saute the shallots in the butter for roughly five minutes, or until the shallots are translucent. Remove the pan from the heat and set it aside.  
5. Once the potatoes have cooled enough to be handled, cut each of them in half lengthwise. Scoop out the sweet potato filling and place it in a separate bowl.
TIP: Make sure not to completely scrape the potato skins of filling. Leave a bit of a coating to maintain the structure of the skins.
6. Combine the sweet potato filling with the shallots, the rest of the softened butter, cayenne, egg, cheese, salt, and pepper, and give it a proper mash until all ingredients are mixed.
7. Salt and pepper the potato skins before evenly distributing the potato mash in each skin.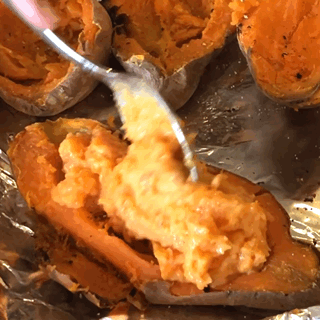 8. Bake the potatoes for 20-30 minutes at 400°F, until the tops are lightly browned.
TIP: Top your finished baked Holy Yams with the topping of your choice, including more cheese, bacon bits, pecans, chives, or scallions!
9. Reverently serve your Holy Yams, and enjoy!